Banyuwangi has sunset views section at Plengkung Beach a.k.a G-Land. The sun is sinking over there looks pretty golden glow.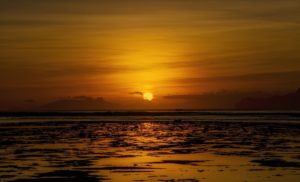 You can enjoy the sunset coast Grajagan to go above Mountain, where the mountain is located just north of the hotel Grajagan quarter. You can enjoy the sunset with clear. In addition to enjoying the moment of sunset, you can also enjoy views of the beach and hills that are dense forest on the mountain.
Moment Sunset in Grajagan Beach is different from the other coast sunset. Because Sunset coast Grajagan covered mountain adds to the impression of a beautiful sunset on the shore when comparing Grajagan.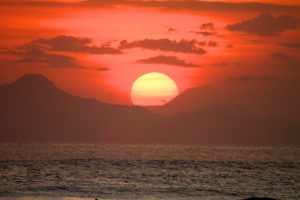 Many people do not know about this sunset, because a lot of tourists left this place at 4 pm, when the moment happens around sunset at 5:15 pm. So, If you visit the Grajagan beach, do not rush to go home because it would be a wonderful moment you can see.