In recent years, Grajagan Beach has gained popularity among surfing enthusiasts from all over the world. Located about 52 km south of the heart of Banyuwangi, Grajagan beach is located within 314 hectares of Banyuwangi Forest Utilization Area within Alas Purwo National Park, and is located near Grajagan Village, Purwoharjo Sub-district. This beach serves as a gateway to other great surfing spots near Banyuwangi including the popular G-land.
Spacious beachfront view is carpeted with beautiful black sand and adorned with caves and hills. Walking by the beach, people will be greeted with panoramic views of the beach and beautiful rows of hills, preoccupied by the roaring waves. Here we can also observe the three caves that used Japanese soldiers during World War II.
Grajagan Beach also offers great scenery where you can watch traditional fishermen sailing toward the open sea, and in the afternoon observe the ships returning with their fish catch. Here you can buy freshly caught fish directly from the ship or to add experience, you can try sailing with them and catching fish the traditional way.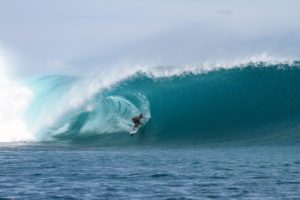 Activity in Grajagan Beach is highly recommended for you who like professional surfing because the wave height can reach 4 meters with speed 60 km / hour.
To reach Grajagan Beach is quite easy because there are already paved road for cars and public transportation. It takes about 1 hour from Banyuwangi to get to Grajagan Beach. The road is wide enough even for big buses.
If you want to ride public transportation, take a Bus in Banyuwangi that goes to Jember city (and vice versa) and get off at Benculuk. From Benculuk, followed by a mini bus about 12 KM before arriving at Grajagan Beach.
Bobbys G-Land Surf Camp offers accommodation as long as you are in Grajagan, with a wide selection of beds, meals and activities. Enjoy your day in g-land with bobbys g-land surf camp. We will be happy to help you, contact us at bobby@grajagan.com