Banyuwangi deserves pride for having one of the best surfing beaches in the world for surfing. The beach is Plengkung beach orbetter known as G-Land. Great waves and able to survive in a long time and multi-layered to be a magnet for tourists both local and foreign countries, especially those who like surfing. So no wonder if G-Land aligned with Hawaii.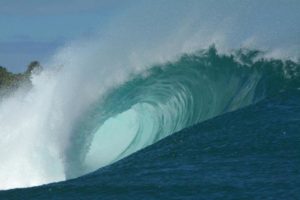 G-Land beach waves peak in the months between May to October, especially in July to September. In that month local and foreign professional surfers started coming there.
If you want to stay long in G-Land stay at G-Land Bobbys Surf Camp is the right choice. The resort has a large selection of comfortable and executive rooms with various facilities ideal for family vacations, honeymoon or any other activities. In addition to the facilities such as ping pong, billiards, and yoga classes will add your fun activities in g-land.