If you are a surf enthusiast (surfing) it seems you have to try out waves at Grajagan Beach, Banyuwangi, East Java. It is said that Grajagan Beach has a consistently rideable wave in the world that is only recommended for professional surfers. Not only the beautiful waves, along the coast which is 53 kilometers to the south from Banyuwangi presents extraordinary charm.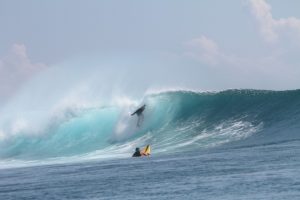 Beaches, waves, rocks and hills as if a unifying entity for the visitors. Grajagan Beach is in the jungle of Alas Purwo Banyuwangi Selatan, precisely in plot 111 BKPH Curahjati or administratively located in the village of Grajagan Village, District Purwoharjo, Banyuwangi.
At Grajagan Beach is also available lodging facilities for the public. For surfing at Grajagan Beach, the waves reach 1 kilometer long, the best spot is in Plawangan, about 300 meters from the beach.  Excellent sensation, but only for professionals, because Plawangan is a spot Which is dangerous for the beginner. The waves are ferocious, if for beginners enough around the beach.