A beautiful beach in southern Banyuwangi, lined with Plengkung Beach, Red Island, and Pesanggaran. Although not as famous as Plengkung and Pulau Merah, but Grajagan Beach since the last five years began ogled surfers of the world. Grajagan is located about 52 km to the south of Banyuwangi Town. Its strategic coastal position becomes the gateway to Plengkung Beach. Grajagan is located in an area of 314 hectares in the forest of KPH Banyuwangi Selatan, located in Grajagan village, Purwoharjo Subdistrict, Banyuwangi Regency.
You can also witness the activities of fishermen in the morning when they go fishing and fish catch. Buy some types of marine fish catches or why not fishing directly. Grajagan approximately 53 km to the south from Banyuwangi. Grajagan Beach waves are not less interesting than the waves of Plengkung Beach, Alas Purwo, also in South Banyuwangi. The difference, the Grajagan waves tend to break before going to the beach. Grajagan is a beach with panoramic views of the beauty of the mountain and its forest. Sand beach that is black not less exotic than white sand in Plengkung.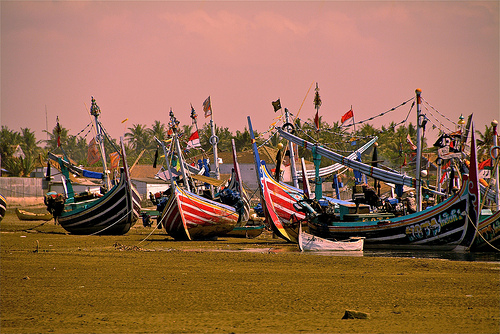 From Grajagan to Plengkung Beach it takes about 2 hours to walk along the beach by boat rental, the trip was almost the same when you use the car by overland just Makadam Road to the National Park Alas Purwo less good condition. Interesting trip from Grajagan to Alas Purwo using boat rental, mainly to Ngagelan beach which is a breeding ground for leatherback turtles, gray and green. Every night the officers here always look for turtle eggs for hatching, tourists who have arrived in Ngagelan can remove the turtle that is ready and time is released into the sea off at any time.
For those of you who want to stay around Grajagan, do not hesitate choose accommodation at Bobby's Surf Camp or contact to bobby@grajagan.com, with various pillihan rooms and fun activities.
Source : eljohnnews.com