Thinking to learn through g-land waves during this weekend? No need to go all the way to Hawaii or Australia to try to break the waves. Banyuwangi has Plengkung Beach with a roll of waves reaching 6 meters in a 7-tiered waveformation.
To go to Plengkung or G-Land beach, the nearest lane you can take is to cross from Gilimanuk Port, Bali. Within 30 minutes you can arrive at the Port of Ketapang, Banyuwangi, East Java. The trip is not over because to get to Grajagan Beach, you have to go overland for 3 hours.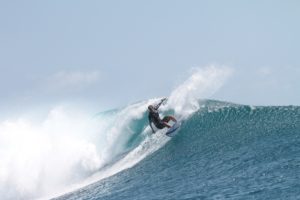 Arriving at Grajagan Beach, there are still 15 minutes more time you need to cross to Plengkung Beach. The trip to Plengkung Beach is exhausting, but upon arrival there, all tired you will be paid off.
Located in Alas Purwo National Park area, Plengkung Beach area is still surrounded by forest. But do not worry about looking for lodging in Plengkung. One alternative lodging that you can try is Bobby's Surf Camp. For beginners who happen to have no surf board, can contact the hotel to rent a board and a trainer to teach you.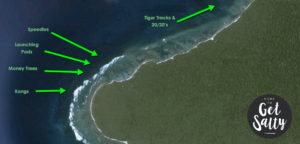 There are several spots that you can choose as your surfing location. Kong, money tree, tgree fan, speedy, and tiger track. Discover the uniqueness of each spot, and decide which ones are your favorites.
For beginners who want to try surfing, try to choose spot tiger track. To get to the spot, you must use a typical land transportation G-land, grandong. Feel the sensation crashing right and left. In addition to being rewarded by beautiful waves, the inhabitants of this beach no less charming. Just look at the starfish, sea shells or cranes that occasionally sunbathe on the reef.